Over the years, the world of SEO has evolved considerably. This has given rise to numerous netlinking platforms on the web. Ereferer is one of them. This platform has been around for almost a decade and is today a big name on the netlinking market. Of course, this is a vast field, and you have to constantly offer quality to stay at the top of the rankings. What's more, the competition is no picnic. So you need to get informed before choosing the best platform to work with. I had the opportunity to test the Ereferer site. In this review, I'll share my opinion based on my own experience of the platform.
| | |
| --- | --- |
| Creation date : | 2014 |
| Number of Partner Sites : | Over 23,000 |
| Price range : | From 0€ (just the cost of writing the article) to 19000€. |
| Possible delegation : | ✅ Yes |
Highlights
Extensive network of partner sites for a wide range of backlinks
Integrated editorial and publishing services for an all-in-one solution
Intuitive user interface for easy campaign management
Targeting options for quality, relevant links
Competitive prices to suit different budgets
Weak points
Possible variations in quality between partner sites
Regular monitoring of campaigns to optimize results
Potential lack of transparency regarding partner site owners
Completion times may vary depending on the complexity of the project
Introducing the Ereferer platform
Ereferer is a netlinking platform created in 2014 by an SEO. Originally, it specialized in directories. The platform has always kept this specificity until now. It is known as a site for buying and selling links and articles at an unbeatable price.
When I arrived on the site, I found a simplistic, highly intuitive interface. In terms of services offered, Ereferer has plenty to satisfy you:
Buy and sell articles and links You can buy links and articles on the site. You can opt for ninja techniques and discreetly insert links into blogs and forums. However, it's easier to buy backlink spots with your credit card. You can also earn money with the sales function.
Writing articles Ereferer: you can entrust the writing of your website articles to Ereferer. If you're short of time to write optimized articles, the site can take care of it. You'll get texts that meet SEO standards.
Its years of existence have enabled Ereferer to hone its skills and carve out a place for itself among the tough competition. More than 20,000 agencies and SEO professionals use the platform. It also offers a catalog of over 50,000 sites from which to purchase backlinks.
How the Ereferer site works
It's hard to get lost on Ereferer. Everything is clear and well organized, so that even beginners can easily find their way around.
Registration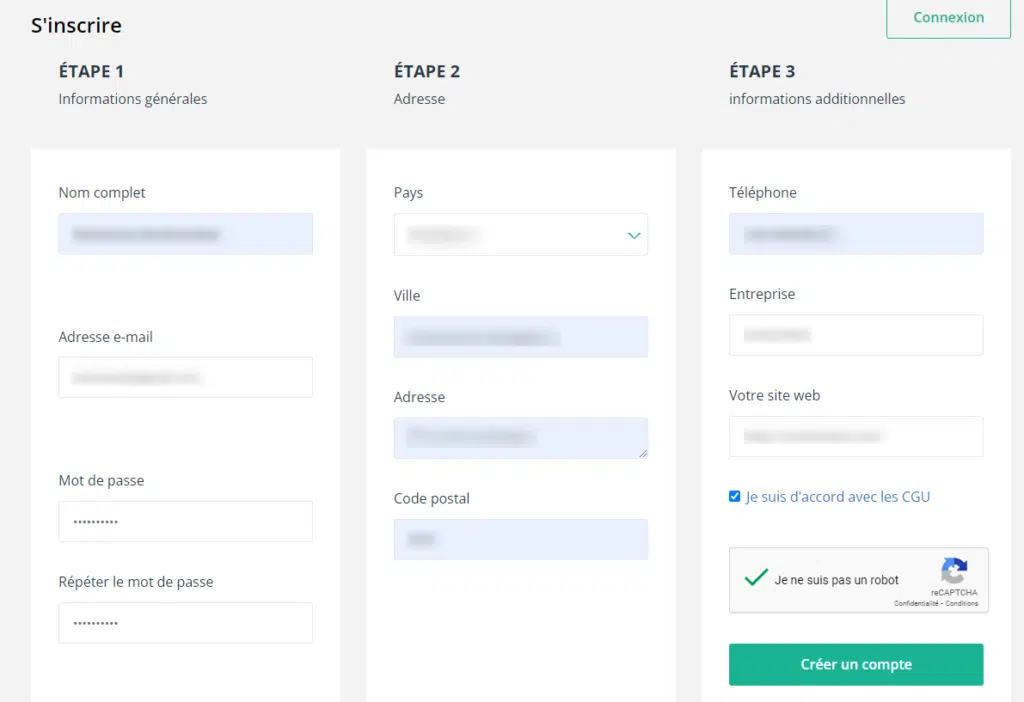 Those who have already registered can log in when they arrive on the site. I had to register myself. Rest assured, registration only takes a few minutes. Once you've clicked on the registration button, you'll be taken to a page with a number of forms. The first is for general information about you, such as your name, e-mail address... The second is for details of your address. Finally, the third form is for additional information. If you agree with the platform's terms and conditions, there's not much left to do. All you have to do is click a button, and your account has been created.
Buying sponsored articles on Ereferer
Once you've registered, you'll be taken to the "dashboard" page, where you can take various actions based on the menu provided. Among other things, you can already buy sponsored articles on the platform. You have two choices:
1er choice: Make a immediate purchase. Simply search for the host site and place your order. In the left-hand column, you'll find the "Quick Buy" button. Click on this button and then on "Find a site". This will take you to a number of fields that you'll need to fill in:
Categories
A large number of suggestions are displayed in a drop-down list. It's best to look for sites in the same category as yours.
Trust Flow
This is a score ranging from 0 to 100 used to assess the quality of a site's link profile. Therefore, high Trust Flow is better. I recommend a minimum score of 10. You should be aware that this indicator can be manipulated. It cannot be taken as the sole indicator of a site's quality.
Keyword search
In this field, you'll insert your website's main keywords. This is a good practice for finding a site that suits you.
Domain Authority
Domain Authority is based on the same principle as Trust Flow. It's also an indicator that will help you find a good site.
Traffic
This is the traffic generated by the site from the Google search engine. Like Trust Flow, the higher the better. For this field, I advise you to enter at least 100.
2nd choice : Create a project by creating a referencing list. If you opt for this method, you can then ask the platform to spread out the publications. This is known as planned purchasing. To do this, go to your dashboard and click on purchase. Then click on "referencing list" and "add". You can then filter the sites according to your criteria. To filter the results, tick the ones that interest you and save your list. From here, you can create your project by selecting the saved list. If necessary, give instructions for writing the articles. The site teams will process your request.
Buying links on Ereferer
To buy links on Ereferer, the process is similar to buying sponsored articles. There are several steps to follow:
Create a referencing list to carefully select the sites where you'll get your link.
Add sites to the referencing list. To access the filtering and selection interface, click on the "Action" button and then on "Modify". This takes you to a page with three sections. The first contains the numerous filters. The second lists the selected sites. The last allows you to see which sites have potential.
Create a project. Once you've completed the referencing list, all you have to do is create a project.
Support
Ereferer doesn't offer a support service that can follow you through your netlinking process. Nevertheless, I can say that the platform's features clearly show you what you have to do. You you can plan all your copywriting. You can also define specific rules for publication. I'm talking here about publication frequency and other important rules. Alternatively, you can track the status of your orders in real time and evaluate the progress of your netlinking project.
Platform benefits and features
There's a good reason why many SEO professionals and agencies are attracted to Ereferer. The platform offers several advantages:
A wide choice of sites for backlinks
Over 50,000 blogs and directories are available for you to link to. Whatever your site's theme, you're sure to find a spotlight here. What's more, the search options are invaluable. Ereferer adapts to every budget and every need. Six languages are also available. You can choose between French, English, Spanish, Italian, Portuguese and German. I should also point out that I found not only small sites, but also some of the big names in the media, such as BFMTV and Le figaro.
Very competitive rates
Ereferer's sponsored articles come at a price 2 to 3 times less expensive than the competition. From what I've seen, there are three reasons for this:
Negotiating packages with referenced sites
Significantly lower commission than competitors
Lack of support services
L'bulk purchase with other members is also possible to reduce the price on the buyer's side.
A highly intuitive platform
The control panel is easy to use. You'll be able to find all the features without any great difficulty. Features such as filters are also a real advantage, as they greatly simplify the user's task.
Ereferer's weaknesses
Although the Ereferer platform is very attractive and offers various advantages, there are a few drawbacks to consider:
From additional costs for certain types of payment. When you make payments via PayPal or Stripe, additional charges apply. Payment via one of these online platforms involves a fee of 2.5 %.
A high withdrawal threshold. It is not possible to withdraw your winnings if your account balance is less than 100 euros.
While Ereferer is a leader on the price side, price variability can sometimes be a problem. The price of a sponsored article can vary greatly depending on the site that publishes it. So, for a relatively low cost, the quality of the site that publishes your article may not be very good.
Sell links on Ereferer as a publisher
When it comes to selling links, publishers need to be present on as many netlinking platforms as possible. The Ereferer platform has great sales potential. I must remind you, however, that your sites must have good SEO traffic if you want to sell links. In fact, Ereferer makes a analysis of organic site traffic using SEMrush. As a result, your sites must generate SEO traffic on this tool. If your sites don't generate traffic on SEMrush, the platform will cap the price of your sales at 10 euros.
If they generate traffic, then you can really think about selling links. This involves completing a few steps. Go to your dashboard and click on "Sales", then on "My sites". In the top right-hand corner of the page, click on the "Add" button. You're now on a page where you can enter information about your site. I strongly advise you to include all important information. You can install the Ereferer plugin on your site. It's not compulsory, but installing it will allow you to automate publications. When all the fields have been filled in, your publisher site has been registered with Ereferer. You can now make your first sale.
Advertiser pricing details and how they work
Ereferer's prices vary widely. Registration is free, and there are no paid subscriptions. As for purchases, advertisers can buy sponsored articles on thousands of blogs and media. This will enable them to gain visibility and backlinks. Prices vary according to different criteria.
Prices for sponsored articles
Rates for sponsored articles are set by the platform's partners. Prices can range from less than 20 euros to several thousand euros.
Directory prices
Directory prices are set solely by the platform. Ereferer then has the right to modify them at any time, as long as this is legal.
Editor's prize
If it's for a copywriting order, the price is mentioned on the "Create a project" page. An additional cost may be added to this rate. This is the case if the article to be edited includes images, a request for editing within 24 hours or a meta-description.
For payment, you must first credit your Ereferer account. You can do this via online payment platforms or by bank transfer. The minimum deposit is 20 euros.
Summary : Ereferer review
In all honesty, I can tell you that I love this platform. Intuitive interface and features are real pluses. The site's professionalism and seriousness justify the huge figures listed earlier. I'm referring to the number of blogs, directories, media and users.
Also, it's hard not to mention the site's rates. I've tried other netlinking platforms, but this is still the cheapest so far.
Even though I've noticed a few drawbacks, I'm still satisfied with the services offered, especially when it comes to copywriting. The quality of the texts is very good, as is the SEO aspect. In short, whether you're looking to buy or sell, I can't recommend the Ereferer platform enough.
To see the Ereferer website : https://ereferer.com/